I was one of the privileged few to be invited aboard Royal Caribbean's Voyager of the Seas recently in Melbourne.
The first thing that amazes you when you see this fabulous ship,  is her size. Although Royal Caribbean have even larger ships, the facilities on board Voyager are hard to beat. She holds 3114 passengers and plenty of crew to take care of you.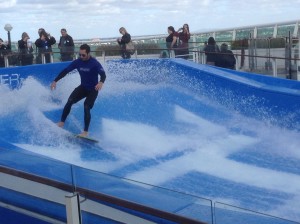 Imagine a holiday that pleases everyone. Dad has gone for a quiet drink in "The Pig & Whistle" , Mum's in the spa having a relaxing facial,  kids are hanging with friends at the basketball court, challenging themselves at the rockwall,  ice skating at ice rink, surfing the Flowrider (a surf simulator) or just swimming in the heated pool. Activities on board are unrivalled and …free.
The choices for dining are endless. You can dine a la carte, buffet style or pay a very small charge to eat at one of the specialist restaurants. Think fresh sushi and sashimi from Izumi, burgers and fries at Johnny Rockets American Diner and fantastic Italian fayre from Giovannis. Exceptional dining all day,  every day.
The well appointed staterooms cater for everyone. My personal favourite is the balcony stateroom. Imagine sipping a cocktail while watching the sunset from your private balcony…..
Of course life on board can be relaxing or thrilling, but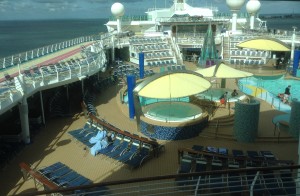 when the ship comes into port you will experience the paradise of the Pacific, the culture and charm of Asia and the breathtaking cityscapes of Australia and New Zealand.
Call in and see me to discuss this and other amazing ships I have seen. I can help you to realise your cruising dream!