We are your trusted local experts. Our length of service, integrity and enthusiasm is a true reflection of our dedication to Travel Design.  No matter what type of journey we are designing, our starting point is simply to listen to you.
We will ask many questions, as your needs and wants are the framework around which we design the perfect travel experience. This is what really sets us apart from the rest.
Travel with Travel Design
Without a travel agent, you're on your own
Our service is a valuable one and something that the internet can never replace. Who wants to fly via three places to get the cheapest airfare or to arrive at your hotel to find that you do not have a window or are in a seedy part of town?
We are passionate about travel. We love what we do. We have been doing it for a long time and we are very good at it. Our business thrives on repeat travellers (who often become our good friends) and recommendations from happy customers.
From your first appointment to discuss your holiday, to the production of your ultimate unique itinerary presented to you with your travel documents, your trip is handled by some of the best designers in the business.
5 Reasons to Work with a Travel Designer
You'll soon wonder how you ever travelled without a travel designer.
Personalised planning: Whether you're the do-it-yourself type or you are looking for someone to completely take the reins, when you work with a travel designer, your trips will be tailored to your needs, interests, and budget.
Global expertise and connections: Not only do we have extensive personal knowledge of destinations around the world, we have relationships with people around the world who can arrange experiences that make a trip truly extraordinary.
Value for money: We have access to the same (and often better) pricing than you can find online, and can secure special bonuses such as free room upgrades, daily breakfast, bonus nights and other benefits you can't obtain on your own.
VIP treatment: We can arrange for you, exclusive access to events, private tours, and other extras.
Peace of mind: In addition to saving you time and money, we are available to contact before, during and after your trip, so you can relax and enjoy every moment of your holiday.
Click with a person, not with a mouse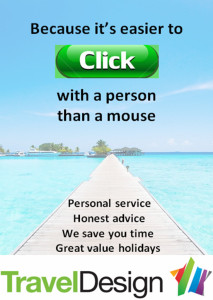 Nothing can replace first hand travel knowledge (not even the internet!) Anyone who has ever trawled through travel websites, tearing their hair out, will tell you how time consuming and tedious trying to book online can be, not to mention the security of the site you're browsing.
Here at Travel Design, we are travel experts. Hand your travel plans to us to save time and let us make your travel dream a reality!
Travel Designed for You
Holidays
Places, faces, experiences and more. We need to know what makes you smile and we design an itinerary around your wish-list, adding ideas and experiences that can transform a great trip, into your trip of a lifetime.  Too often holidays are rushed, speeding through a list of 'must dos'. Let us show you the world at an achievable pace, allowing you the time to experience the local flavours, cultures and amazing scenery. Time for contemplation, immersion and most of all enjoyment are the key elements in our design process. Sometimes, it's not the destination, it's the journey.
Enquire now – Top 10 Destinations
Flights
Although airlines allow you to make on-line bookings for straight forward itineraries that are relatively simple, they assume that price is the most important factor in offering flights. We are able to offer special airfares that are not available on the internet. It is our role to offer you the best value for money air ticket, by considering the most direct, most convenient and comfortable journey we can.
Cruises
Are you a sailor, a cruiser or an adventurer? Cruising has never been so easy. It has become so popular that some of the world's best ships regularly enjoy a summer season in the southern waters. We will find a cruise to suit everyone. Great value, family friendly, luxurious and exclusive. You can cruise from Melbourne or almost anywhere in the world. We have seen many clients fly to exotic destinations to cruise, and even cruise all the way home. River and ocean cruising has become so popular that we have undertaken specialized training to become highly accredited ICCA "Cruise Masters".
Coming soon : The "Cruise Finder" will be a great source of information when researching cruises. The link will include some great exclusive deals available to us. Ask us to receive a copy of the "Cruise Passenger" magazine to keep up-to-date with some of the latest cruise features.
Expeditions & Adventures
We love adventure travel and expedition cruising. There is no better, more exhilarating feeling than the deafening silence of the pristine world of Antarctica being broken by the thunderous crack and falling of ice as a glacier calves before your eyes; nor the anticipation of seeing your first polar bear on the ice; or reaching to summit of Mount Kilimanjaro for sunrise. It is the ruggedness and isolation of these places and the remoteness of these communities that draws to you them. Follow your lifelong dream and experience the very best of what is still almost untouched by the heavy footprint of man.
Corporate Travel
With the high pressure of business today, our dedicated travel designers can save you time, lessen stress and save you money. Whether it is taking advantage of early booking conditions, or paying a little more for flexibility, let us design your travel strategy. Talk to us, not a faceless booking engine. We will get to know you, your staff and what's important for the provision of travel services to your business.
Group Travel
Group travel requires careful planning and meticulous co-ordination. We have handled many different small to medium sized conferences, cruising meetings, sporting teams and nulti-generational family groups. If you have a group of friends you would like to travel with; are a member of a social or special interest club; travelling for educational purposes, a common themed trip, or perhaps need to travel for a special occasion including weddings, concerts or sporting events, please contact us now.
Travel Insurance
"If you can't afford travel insurance, you cannot afford to travel". Whilst it's nice to have your luggage and the odd doctor's bill covered, you are really taking insurance to cover you in case of a disaster. You know 'the one that will never happen to me!'. We work with Allianz travel insurance and find them to be service orientated, competitive and the most important thing, prompt in settling claims. Buy your travel insurance early and you'll have better value from your policy. It is important that you understand your insurance policy so contact one of our designers if you are unsure about anything.
NB: Visit the Department of Foreign Affairs and Trade for updates on the latest travel advice made by the Government to Australian citizens. See www.smartraveller.gov.au.